A Chance for Children is the name of the new children's book and water safety program, created by Dr Stathis Avramidis and inspired by true events from the life of Greg Bonann and Tai Collins, the creator and screen-writer respectively of Baywatch.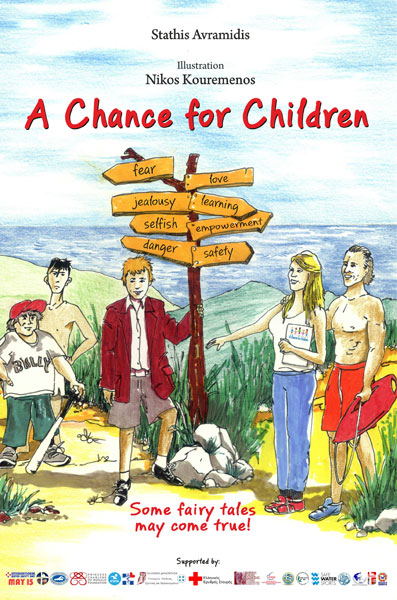 In 1992, Greg Bonann, Gold Medallion recipient by the International Swimming Hall of Fame who is best known by his world success TV series Baywatch, co-founded Camp Baywatch to help inner-city children have a second chance in life. His efforts would not be possible if Tai Collins, screen-writer of Baywatch and a very decorated person, would not have added her long experience in similar missions. When the TV series Baywatch ended, there was a need to change the name to reflect more on the work that this camp did to children. Thus, A Chance for Children Foundation was born. Today it continues to help thousands of children in USA and other countries.
In 2009 and in 2012, Dr. Stathis Avramidis from Greece, was honored by the International Swimming Hall of Fame for his outstanding contributions to lifeguarding and water safety worldwide. Avramidis is one of the most dedicated and decorated water safety advocates and one of the most prolific authors in the world. His constant and warm communication with Bonann since 2010 inspired Stathi to adapt a fairy tale book that had started a little while after the establishment of Camp Baywatch, while he was a student at Athens University. It took him over 2 decades to complete the book due to several obstacles and challenges that had to overcome. The book was illustrated by Stathi's lifelong and dedicated co-worker, Nikos Kouremenos.
Most fairy tales have a happy ending that's too good to be true; except this one that aims to be a hymn to human of human empowerment! It talks about an at-risk boy named Dear who was wandering around, saying I am a child; give me a chance and seeking to share with others love and learning. After he met several children that ignored and humiliated him, he was saved from drowning by a lifeguard who took him to a wonderful place so he could feel that he belongs to a group and to discover that this summer camp was called A Chance for Children.
The A Chance for Children fairy tale book has three aims: to be a hymn to human empowerment, to celebrate the inspirational work of Greg and Tai and to become a means for drowning prevention and water safety education. For these reasons, in 2015 the Secretary General of Public Health in the Ministry of Health included the fairy tale book in the Hellenic National Water Safety Program created by Stathi as free e-learning module. In 2016, the book was completed and formed a water safety project. The project A Chance for Children was approved by the Ministry of Education, Research and Religion. It aims to reach about 500,000 primary school children in Greece and millions others worldwide.
Click below to access freely the program material in Greek and English:
English
Ελληνικά
The book contains educational games and theatrical play to engage the children in creative activities in schools, summer camps and water safety organizations. Those that will implement the program are encouraged to contact Dr. Avramidis at elagreece@gmail.com to receive a certificate of thanks by the Hellenic Federation of Underwater Activity.
Contributing Organisations
The book will be printed in Greek and English with the financial support of the Princess Charlene of Monaco Foundation. It is supported by 18 organizations in over 20 countries:
Ministry of Education, Research and Religion
Secretary General of Public Health – Ministry of Health
Princess Charlene of Monaco Foundation
A Chance for Children Foundation
International Swimming Hall of Fame
International Federation of Swimming Teachers' Association
International Awards Giuseppe Sciacca
Giuseppe Sciacca Foundation
International Water Safety Day
Brazilian Lifesaving Society
Hellenic Centre for Disease Control and Prevention
Hellenic Federation of Underwater Activity
Pan-Hellenic Union of Qualified Physical Educators
Union of Greek Athletes with Extraordinary Achievements
Pan-Hellenic Union of Medical Doctors
National School of Public Health
Safe Water Sports
Hellenic Red Cross
Comments About the Book
In March 8, 2013, Bonann wrote:
Stathi, I have just returned home from a trip to Cape Town (where we may be shooting Rescue 3) and your Fairy Tale Book was waiting for me!!! It is so thoughtful and fantastic that you did it for us! Tai was in tears… and laughter as she read it to me aloud in the car as we were driving home from the airport, immediately upon opening it up! We can't thank you enough. Also thanks to your collaborator/illustrator Nikos! He is so talented too!! You are such a talented man… NOW you may have to come to Cape Town to see me!!! With best regards and profound appreciation, Gregory J. Bonann, Tower 18 Productions.
In May 2014, when Bob Burnside (Bonann's former head lifeguard and Water Safety Paragon Award winner) read the draft of the book, said:
Stathi you have done a wonderful work and you are a good person. I will speak to Greg about you.
In April 8, 2013, Collins wrote:
Stathis, Greg received your package and we have been giggling over your children's book! LOVE it! Love to talk and see what you have in mind for it! Greg says great things about you and your creativity! Hope to do some fun thing together soon! Thank you!!! Tai Collins.
In May 24, 2015, when Stathi asked Bonann for permission to print the book, Greg replied:
Stathis, Congratulations on your great work and service, it is fantastic what you do. You have my permission to use the fairy tale book in any way you wish to help the children of Greece. I hope you are well and wish you the best of success on all of your endeavors. With best regards, Gregory J. Bonann, Tower 18 Productions.
In April 19, 2016, when Bonann was notified upon the publication of the book, he emailed Stathi his congratulations and thanks.
When the book was completed, Stathi said:
After many years, my dream came true. It is a honor to produce this material that was accepted not only by several organizations around the world but also by the founders of the real ACFC Foundation. Although I have never met Greg and Tai, they allowed me to produce the book and use it as means for water safety education. Their effort to start Camp Baywatch for helping the children in California, now becomes something bigger beyond the USA borders. The torch of their light enlightens us all. The most important in every act of kindness, is not the act itself but the hope that it may be imitated and multiplied by others. This is what I did touched by their selfless generosity and this is what I hope that may happen by those that will freely use the book.