Report by Dave Candler, STA President
IFSTA held their annual board meeting in May 2014, which was hosted by the Hong Kong Swimming Teachers' Association as part of their conference and 40th anniversary celebrations.
Representing STA at the event was Roger Millward, also IFSTA's Chief Executive, Dave Candler, STA's President, Jim Lawlor, IFSTA World President and Lee Robinson, a former IFSTA and STA President, who was personally invited by the HKSTA.
The 4-day programme started on 1st May, Hong Kong's Water Safety Day, and all overseas delegates were invited to the 9th Hong Kong 3000 meters swim for safety campaign held in Repulse Bay.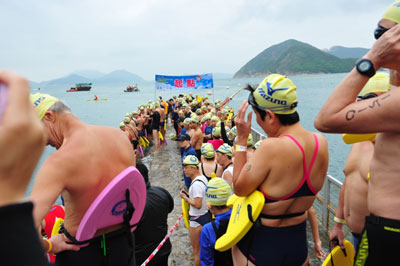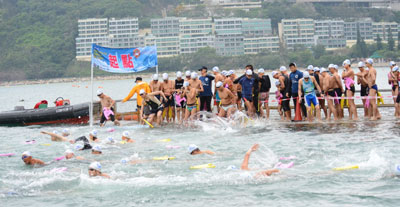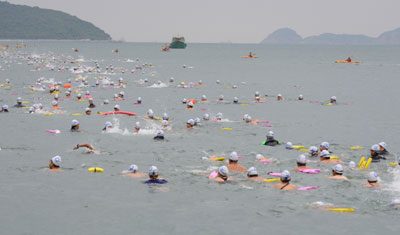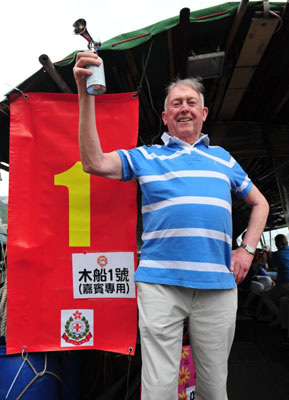 Jim Lawlor, IFSTA World President was given the honour of starting the event, where all the swimmers used colourful floating aids to represent the importance of water safety.
Over on the beach, delegates were treated to a Scottish Pipers welcome, followed by a dramatic Sea Rescue Show, which involved the HK Government Flying Services, HK Fire Services, HK Marine Department and HK Police.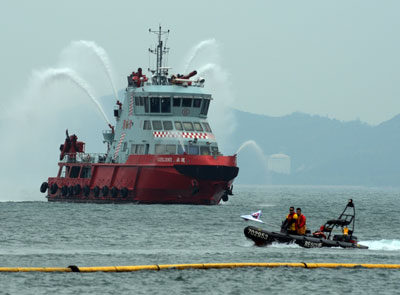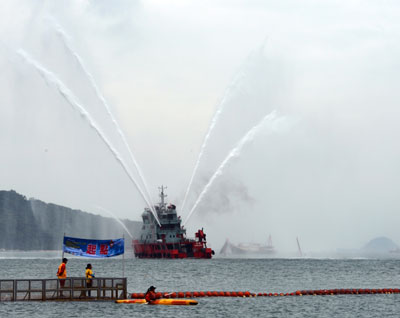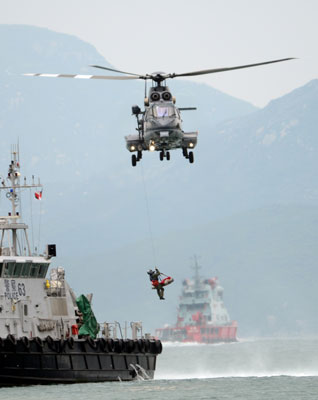 In the afternoon, IFSTA held its annual board meeting, which was attended by representatives from the majority of members.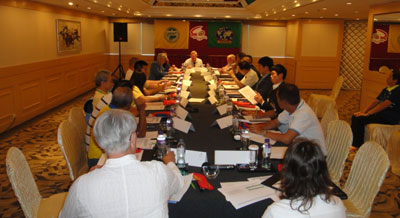 Day 2 marked the start of the HKSTA's 2-day conference, which featured fifteen key note speeches from swimming and lifesaving specialists from all over the world – several of the presentations are available to download here in English.
Session 1: Water Exercise
Tai Chi in Water – Hong Kong Experience by Mr Anthony Lau, Registered Physiotherapist
Aquacise Competition – Greater China Experience by Professor Helina Huang Kwan Lun
Combat Against Ageing – Hydrofitness by Mr Bonnie Li, Consultant, Physical Fitness Association for Hong Kong, China
Session 2: Drowning Prevention
Drowning Prevention in Four Seasons by Mr Tero Salvolainen, Director, Finnish Swimming Teaching and Lifesaving Federation
Air and Sea Rescue by Mr Benny Chan, ACMO, Hong Kong Flying Service
Life Savings Strategy and Technical Updates by Mr Abby Tsoi, BSc, MBA, Head of Examination Panel, Hong Kong Life Saving Society
Session 3: Swimming and Health
Everyone a Swimmer Everyone a Lifesaver by Mr Jim Lawlor, IFSTA President
Chinese Medicine Perspective in Swimming and Health by Professor Lin Zhixiu, PHD, The Chinese University of Hong Kong
Swimming Teachers' Legal Liabilities by Mr Fok Woo Ping, LLB, B.P.E, Solicitor, Hong Kong
Everybody has to Learn to Swim by Ms. Pia Holmen, IFSTA President Elect and Director of Danish Swimming Federation
Session 4: Beyond Swimming Teaching
Increasing Participation and Raising Standards by Mr Roger Millward, IFSTA CEO
Prevention of Ear, Nose and Throat Diseases for Swimmers by Dr. Wai Heung On, Jonathan, MBBS (HK), DLORCS (UK), Medical Advisor HKSTA
Swimming Teaching in China by Professor Li Chung Ming, Guangzhou Sport University, China
Swimming Teaching, the Importance of Sharing Technical Development Knowledge by Ms. Sharon Wrohel, Australian Swimming Coaches and Teachers Association
Open Water Swimming by Mr Dave Candler, STA UK President
The conference ended with a fantastic HKSTA Ruby Jubilee Banquet at the Regal Riverside Hotel with traditional Hong Kong dragon dancing and entertainment from local school children.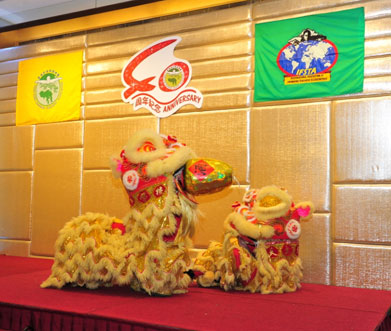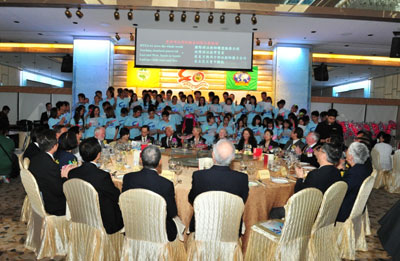 Guest Photos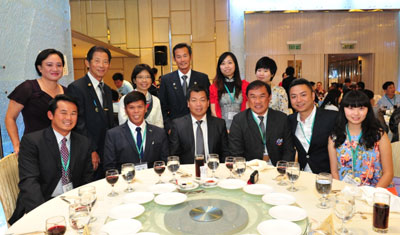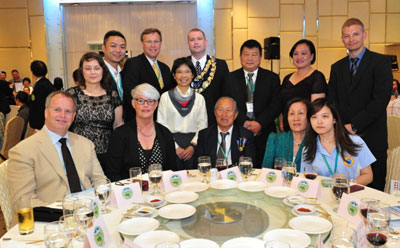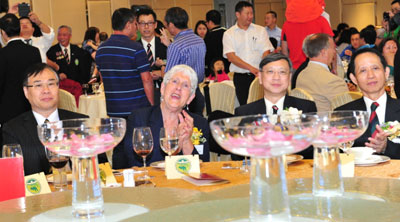 STA's Lee Robinson with HKSTA's Chairman, Dr Patrick Yeung and Chan Po Luk, IFSTA Past President & Life Governor.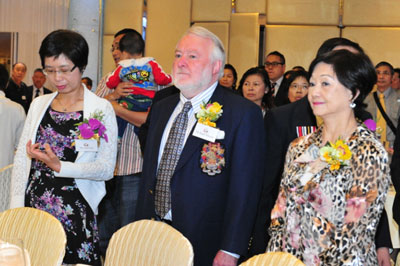 During the evening, IFSTA also made some very special presentations.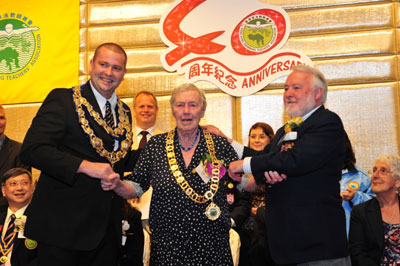 To mark HKSTA's 40th anniversary, Dave Candler, STA's President and Roger Millward, IFSTA and STA CEO presented the Association with a Gold Chain of Office, which was accepted by Betty Mair MBE, Life President of HKSTA.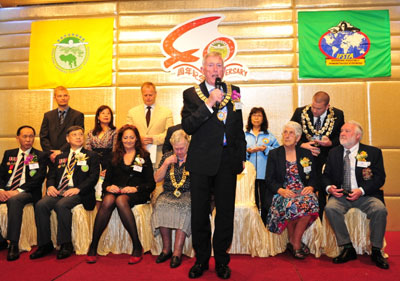 IFSTA awarded an 'Honorary Life Governor' status to Mr Jim Lawlor, World President. The award was presented by the incoming World President Ms Pia Holmen of Denmark at the Association's International Conference. This is only the third occasion in the IFSTA's 34-year history that this award has been made.  It was made by the International Board to acknowledge the major contribution Mr. Lawlor has made to the restructuring and development of the IFSTA during his time on the World Board and during his time as World President.
HKSTA also presented Mr Lawlor with their "Gold Medal'' for distinguished service to the world of aquatics.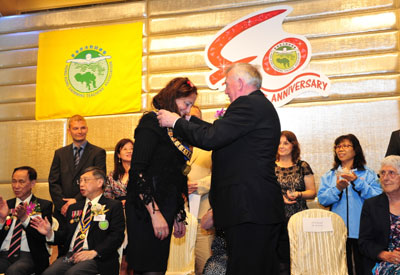 World President Ms Pia Holmen of Denmark was officially announced as the new IFSTA World President.  Mr Jim Lawlor is pictured here officially handing over the Chain of Office to Ms Holmen.
The conference concluded on Day 4 with an IFSTA Board of Directors Evaluation Meeting and a Farewell Lunch.
Thank you to HKSTA for hosting such a wonderful event, and congratulations on your Ruby anniversary.